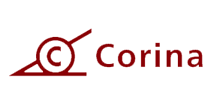 Copyright International Agency, abbreviated Corina, acts as a service provider for authors and publishers. By offering translation rights, we aim to make literary works accessible world-wide to as broad a public as possible: works which are interesting and stimulating for readers from all countries. The spectrum covers titles of international relevance in the fields of literary fiction and non-fiction. To communicate with our authors and other associates and to keep our clients abreast of developments as they happen, we exploit the internet to its full potential.
One of our special areas of interest is the literary exchange between East and West. This mainly involves making the works of contemporary authors from the former socialist countries known and read in other countries - and vice versa - by means of translation.
Our choice of titles has been agreed upon by the correspondents, literature experts, translators and other freelance associates who form our international network of contacts, and in close connection with the authors and owners of the translation rights of these titles. Each title on offer has been approved in this manner. The contracts that we conclude with the holders of the translation rights generally offer us the exclusive world-wide rights of representation for all languages and countries. Corina is committed to meeting only those agreements which comply with international conventions on author and publishing rights and which do not come into conflict with national legal requirements.

Werner B. Thiele
(President and Founder)

We compose for each title detailed author exposes in English and German, as well as short versions in Spanish and French. The exposes can be viewed in your chosen language on our web-site at http://www.corina.com/. An easy-to-use navigation system and titles ordered according to subject makes access simple. We also offer all the usual services available in the conventional license market. This includes participation in important international and national book fairs.

We receive a remuneration from the owners of the translation rights for the titles we offer in the internet under the category "Authors", payable only in the case of the title's success (as a share of the proceeds of the sale). No further payments are due from the owners of the translation rights.

In addition to this full service, with INFORM (Internet Foreign Rights Market) we are preparing an online service for publishers primarily interested in using our internet-system as a platform on which to present their own foreign rights: A kind of living "Internet Catalogue" or "Foreign Rights Web Market" that can be accessed from every internet terminal at any time and is always up-to-date. If required, we can also create links to existing hompages and will provide technical support. The fee payable for the "INFORM" service depends on the scale of the service provided. Interested publishers may contact Corina via the e-mail address inform@corina.com or via fax, telephone or post.

As an additional service Corina can provide contacts to translators who specialise in certain genres.

Corina works confidentially and in partnership with authors and publishers. Through our engagements, we wish to make access to translation rights easier and to increase transparency for publishers around the world. The integrated questionnaire-system enables a speedy response to each process.

Our aim is to identify and utilize the additional possible areas of interest resulting from the sale of translation rights. We intend that agreements made should be considered fair and financially satisfactory by all parties. This means that we must take the idealistic and business interests of authors and publishers into account, and includes an assessment of the market conditions in each country and the investigation of the work's potential for further promotion by using the subsidiary rights.

We believe in fulfilling the financial commitments arising from the usage of translation rights. However, we also consider the international availability of literature to be an important contribution towards international understanding. In a society governed increasingly by global requirements, the availability of a wide spectrum of international literature ensures both cultural diversity and through information, discussion and acceptance, the intellectual participation in artistic-creative performance.

All employees of Corina feel committed to the principles expressed in this declaration.

Werner B. Thiele
(President and Founder)